Bypass The Recycle Bin When Deleting Files
If you are absolutely sure you want to delete a file, why send it to the Recycle Bin? Windows lets you bypass it really easily:

To delete a file or a group of files, select them with and when they are highlighted, press Shift+Delete. Press "Yes" in the confirmation box that opens and you're done!
_________________
CHANGE THE START BUTTON TEXT ON WINDOWS XP
Warning: this tutorial is more for advanced users, and I'm not
responsible if your system gets messed up. Only attempt the following
at your own risk......
If you tired of the boring old "start" button at the bottom left corner of your Windows XP's monitor...and you Want something new to replace it? Well here's how to change it....
Follow the following steps:-
1) Modify explorer.exe
We need a special software called "RESOURCE HACKER" Install it and lets start

RESOURCE HACKER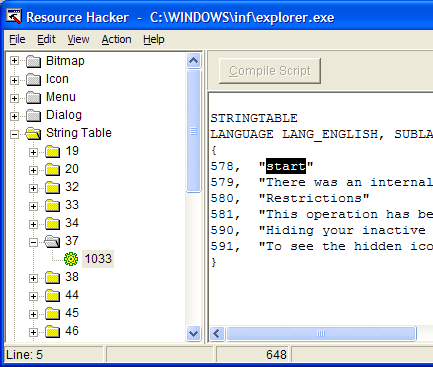 When you've found and opened explorer in RH, navigate to String Table -> 37 -> 1033. The "start" value is on line 4, after the 578. Change the text "start" to anything you want, making sure you keep the quotes. In this example. I changed the text to "Technoworld"
Press the Compile Script button to make Resource Hacker put together the code. Now click File and Save the script as explorer.exe. into C: \WINDOWS\inf or another C: \WINDOWS subfolder.
Note: make sure you choose Save AS, NOT just save!!
2) Modify explorer.exe
By now, you have a modified explorer sitting in the /inf/ subfolder, so we need to tell Windows to use that one, instead of the original one still resting untouched.
To do this, we need to make just one simple registry modification. To open up the registry, press start (something else soon ) -> run and type regedit.
In the registry editor window that opens, navigate to HKEY_LOCAL_MACHINE\ SOFTWARE\Microsoft\ Windows NT\ CurrentVersion\ Winlogon and look for the registry entry "shell". Click it.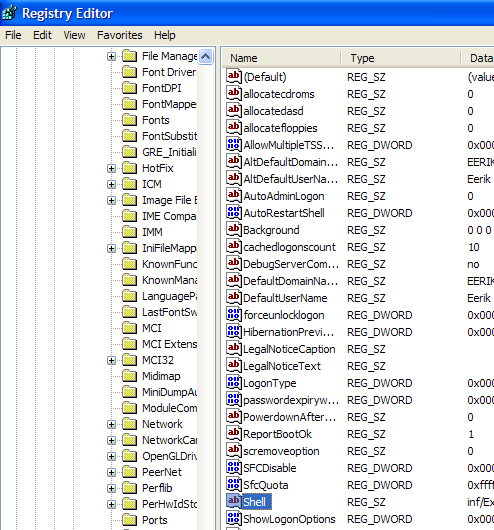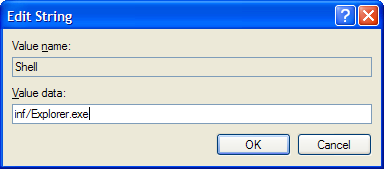 now Change the explorer.exe to inf/explorer.exe or whereever you saved the modified explorer.
And you're done! All you have to do now is reboot or log out and bacö in to see the changes. Enjoy your new custom Windows XP start button!
Dont forget for THXX


_________________
Use multiple identities on Google Talk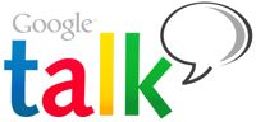 Do u want to run Google Talk with multiple Gmail identities? If you have several Google Gmail accounts you also may want to run multiple instances of Google Talk This is especially important for families that share a single PC. Nothing worse than a family member signing you out so they can sign in under their own account!
Basically, to have "Google Polygamy" you need to run Google Talk with the following switch: /nomutex
here is the simple trick..............

Step 1: Right-click on the desktop
Step 2: Select New
Step 3: Select Shortcut
Step 4: Paste this into the text box:
"c:\program files\google\google talk\googletalk.exe" /nomutex
Step 5: Click Next and choose a shortcut name such as Google Talk1, Google Talk2, or something related to your Gmail account for easy remembering which account is which.
Step 6: Click OK a few times
Now enjoy multiple google talk identies on single pc..thats it...
_________________
MICROSOFT OFFICE HACK (REMOVE PASSWORD)

MS World

Here is the trick hwo to open password protected file in MS WORLD (win2k/xp)

1) Open MS Word with a new (blank) page

2) Now select "Insert" >> "File" >> browse for your password protected doc & select "Insert" then "Insert" password protected doc into your new/blank doc

3) Now select "Tools" & now there's no longer an "Unprotect document" ... password vanished ...

******************************ENJOY*************************************
_________________
VERY VERY FUNNY GOOGLE TRICK
This is a very funny trick you can do in Google. First go to Google then go to images
search or you can directly go to images.google.com ,then copy this given below small javascript code as it is , then paste it to your address bar
javascript:R=0; x1=.1; y1=.05; x2=.25; y2=.24; x3=1.6; y3=.24; x4=300; y4=200; x5=300; y5=200;DI=document.images; DIL=DI.length; function A(){for(i=0; i-DIL; i++){DIS=DI[ i ].style;DIS.position='absolute'; DIS.left=Math.sin (R*x1+i*x2+x3)*x4+x5;DIS.top=Math.cos(R* y1+i*y2+y3 )*y4+y5}R++}setInterval('A()',5); void(0)
if it ask you yes or no press no and then see the magic ...
Dont forget to put your comments if you like it...!


_________________
Similar topics
---
Permissions in this forum:
You
cannot
reply to topics in this forum